NETWORK MARKETING BUSINESS vs FREELANCER BUSINESS?
Posted by brandstad in Oct, 2017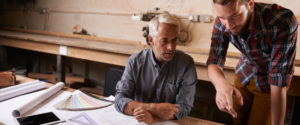 According to Rich Dad Poor Dad author Robert Kiyosaki ; if you want financial freedom then it is better to be self employed than employed. If you are employed you have a fixed income regardless of how much work you do. However, if you are self employed your income is unlimited and rather dependent on how good your system for generating income is.
If you are employed, have you considered your journey from employment into self employment? If not then refer to my earlier blog about whether to be start a business part time or full time.
This blog is about the structure your business should take. So which is better a network marketing business or to start as a freelancer?
What is a Network Marketing business?
A Network Marketing Business is a type of business model which requires a network of distributors to build the business and generate an income. There are income payouts at more than one level of the business from newbie all the way up to top executive. It is different from a pyramid scheme or multi level marketing schemes which are normally associated with price-fixing of products, emphasis on recruitment of lower-tiered sales associates over actual sales, potential exploitation of personal relationships which are used as new sales and recruiting targets, complex and sometimes exaggerated compensation schemes, and cult-like sales and marketing techniques which some schemes use to enhance their members' enthusiasm and devotion.
In A network marketing business is a business model with a marketing strategy in which the sales people are compensated for the sales they personally generate and also for the sales of others sales people they recruit. This creates a down-line of distributors and a hierarchy of compensation at multiple levels of the business. They are not franchises since you do not necessarily own a portion of the business but more like a licence to trade. This type of business opportunity is very popular with people looking for a part-time, business with a lot of flexibility. Some of the best-known brand name companies include Utility Warehouse, Forever Living, Avon, Mary Kay Cosmetics and Salad Master are networking modes of business.
Distributors of network marketing businesses actually sell products or services. Successful distributors believe in the products or services and both use them and encourage people in their networks to use them through a system of referrals just as you would recommend someone to buy the latest iphone or pair of shoes which you just bought and works fabulously. Building a recurring, residual income gradually that grows month over month is going to give you the peace of mind and financial freedom that is so vitally important to you and your future. You get to work the business around the rest of my life instead of the other way around.
The Benefits and disadvantages of a network marketing business
Benefits
It is very easy to start up a network marketing business. It simply involves signing up to the company and in some cases there is very little or no cash outlay up front.
You do not have any employees. One of the biggest headaches with running a small business is finding and keeping the right employees who will help to grow your business. It is also the biggest expense next to property costs. Instead of employees you will have fellow like-minded distributors who also want to grow their business.
You do not have to buy or hold a lot of stock. In some network marketing businesses any orders you make are shipped to the customer straight from the warehouse so you do not need to hold any stock. In other businesses you just need to make a minimum order which could be sold within the month or short period. Usually shipping is free also.
Profits are shared all across the organisation and not just at the top executives. It is important when signing up to a network marketing scheme that you understand the pay structure so that you can work to gain the maximum benefit.
It creates a residual income which can be passed on to your children. Unlike freelancing if you are not performing you will not be paid as a network marketing income stream your payments come in even as you take time out because you have recruited other distributors and this business income can be passed on to your children.
There is a good strong support structure and regular training in place to help you to build your business. As a larger organisation most network marketing companies understand that their distributors would not be skilled business or sales people so they put in place regular training, confidence boosting events and usually have a complete administrative back office which means distributors can get on with generating sales rather than worrying about other aspects such as distribution, brand development, accounting , website, etc. This is one of the biggest drawbacks in starting up as a freelancer or small business. You have to be a master of all aspects of running business.
There is a lot of flexibility to fit around your main job or family life
Disadvantages
Some people are sceptical about network marketing businesses and this makes it hard to build up your client / distributor base
If you don't work on the business regularly and keep up to date you can lose momentum
If you don't believe in the network marketing business or product you have joined it will be almost impossible to market it to other people. You are unlikely to be successful and this can be frustrating and demoralising.
If you are not clear how the particular network marketing business works how the payment structure works and how to get new prospects then you will become frustrated very quickly as you will not be able to develop a successful sign up system which can be duplicated by your new recruits.
In addition it will be difficult to convince people to sign up because you can't explain clearly the business to them. First find out what your prospect really wants and if your offer presents a solution to their problem.
Network marketing businesses are sometimes promoted as a spare time business not a part time business. This is a wrong conception as those who work on it in their spare time end up getting spare time returns which are miniscule and puts them off. If you treat it as a part time business e.g, dedicating 10 hours or 15 hours per week as you would a part time job then you are more likely to see better success.
What is a Freelance business?
A freelancer is a person with a skill or trade who is self employed and works for a number of companies. It is a bit like having several part time jobs at the same time or working on a number of projects or piece work for different companies.
When choosing to start a business particularly a part time business it is very important that you are clear about which mode you was to operate through. This helps you to be organised and to deliver your work effectively and efficiently.
So what are the advantages and disadvantages of a freelance business?
Benefits of freelancing
It is easy to start and has little or no start up costs.
It gives you the flexibility and freedom to work when you want and with whom you want. This is very attractive to people who want to fit work around their family life or personal pursuits.
It can also be easier to test your skills and experience on a short term small scale basis with low investment.
The benefits of freelancing are similar to those of running a part time business.
It is sometimes easier in certain sectors (such as IT, music, fashion, etc) to find work as a freelancer than as a small business
There is a greater opportunity to work from home
Disadvantages of freelancing
It can take time to build up enough clients to be able to support your lifestyle.
There is lack of job security and this can result in contracts ending with little or no notice.
There can sometimes be long gaps without work which will have an impact on your cashflow
Some employers are very slow to pay your fees which again involves the hassle of chasing them and the resulting impact on your cash flow.
In some industries freelancers work almost like employees but they do not have access to the same benefits such as sick leave and holiday pay. This can make freelancing more undesirable
If you would like further information on any of the points in this blog please contact us on 07906343050.